My second Stacking the Shelves post.
August 18th-31st
*Met the author in person
#Featured in Top Ten Tuesday
Books I borrowed, traded, bought, given will be posted biweekly.
Borrowed from the Library: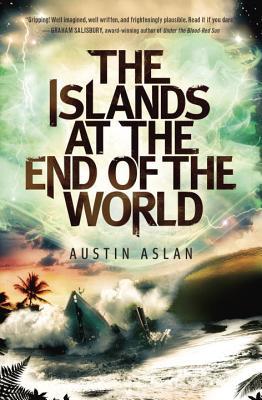 The Island at the End of the World
by Austin Aslan
Traded through YABE:
Pictured:
The Bodies We Wear by Jeyn Roberts
Faces of the Dead by Suzanne Weyn
The Jewel by Amy Ewing
A Little Something Different by Sandy Hall
Prisoner of Night and Fog by Anne Blankman
The Unfinished Life of Addison Stone by Adele Griffin
Astray by Amy Christine Parker
Ill Give You the Sun by Jandy Nelson
Dissonance by Erica O'Rourke
Between by Megan Whitmer
Not Pictured:
The Nightmare Dilemma by Mindee Arnett*
Anatomy of a Single Girl by Daria Snadowsky
The Girl Who Never Was by Skylar Dorset
Earth Girl by Janet Edwards#
The Haven by Carol Lynch Williams#
The Art of Lainey by Paula Stokes
Between Shades of Gray by Ruta Sepetys
Allies and Assassins by Justin Somper
Moth and Spark by Anne Leonard
Given by the Publisher:
Pictured:
The Unhappening of Genesis Lee by Shallee McArthur (edelweiss)
Bright Coin Moon by Kirsten Lopresti (edelweiss)
Elevated by Daniel Solomon Kaplan (Goodreads)
Twisted Reflectons by Shay West (LibraryThing)
Stopping Short by Mindy Klasky (LibraryThing)
The Geek's Guide to Dating by Eric Smith (Quirk Books)
Who is Martha? by Marjana Gaponenko (Shelf Awareness)
Arcana by Jessica Leake (edelweiss)
The Ruining by Anna Collomore (Publisher)
Purchased:
Pictured:
The Break-Up Artist by Philip Siegel (Kindle)
Everlasting by Candace Knoebel (Kindle)
Unhinged by AG Howard (Kindle/Hardcover/ARC)
Threats of Sky and Sea by Jennifer Ellision (Kindle)
The Forever Song by Julie Kagawa (Kindle)
Six Months Later by Natalie D. Richards (Kindle)
Cate and the Lost Colony by Lisa Klein* (Kindle)
#16 Things I Thought Were True by Janet Gurtler (Kindle)
Backward Compatible by Sarah Daltry (Kindle)
Blood Coven Vampires Volume 1 by Mari Mancusi (Paperback)
What do you think of my latest additions to my Library? Most of my purchases were Kindle $2 sales. I love Unhinged and had to own it in Hardcover and Kindle. I love to play video games so I picked out three and cant wait to begin them. Comment below and tell me what you think!
Published by M